Visit Us at the National Restaurant Association!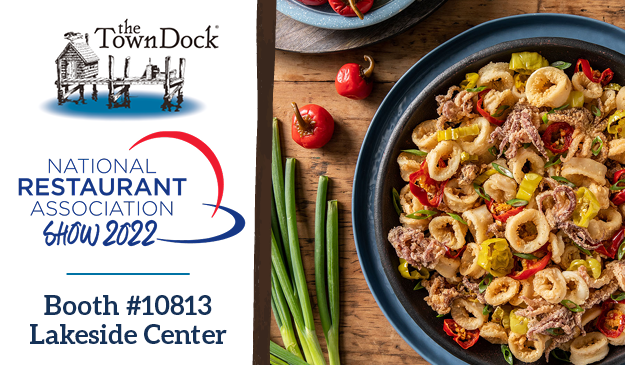 For the first time, The Town Dock is exhibiting at the National Restaurant Association (NRA) Show in Chicago, Illinois, from May 21 - 24, 2022. We look forward to seeing you at The Town Dock's Booth, #10813 in the Lakeside Center.
The National Restaurant Association (NRA) show is a must-attend for anyone in the foodservice industry. As we increasingly lift the veil from COVID, industry is looking for new ways forward, innovative ideas, customer-favorite ingredients, and ways to increase margins.
We'll be serving up fried calamari, calamari ceviche, and calamari pasta with our Chef Ready Calamari! Saving time, space, and labor, Chef Ready Calamari is the perfect solution for many businesses. We are fully stocked and ready to provide your business with the best, ready-to-use calamari available - ask us about all of the things Chef Ready Calamari can do for you.
In addition, we'll be there with all of your old favorites – like our iconic Rhode Island Calamari®, Premium Domestic Calamari, and Classic Calamari. As the supply chain continues to unwind, all of these products will be increasing in availability, so talk to us about your needs and we're happy to make recommendations.
Like always, we'll also have brand new recipes for you to grab and try in your home or professional kitchen!
We're looking forward to the first NRA and can't wait to see you and talk all things squid and calamari. Swing by The Town Dock, Lakeside Center Booth #10813, and say hello!