The Town Dock Celebrates 42 Years
Narragansett, RI, March 17, 2022 – Today, The Town Dock is celebrating its 42nd anniversary as a family-owned, vertically integrated seafood company & calamari specialist. Celebrations included doughnut cakes at our Rhode Island locations. Pictured, The Town Dock's President & CEO, Ryan Clark, cutting the cake with some of the team at our Narragansett office building.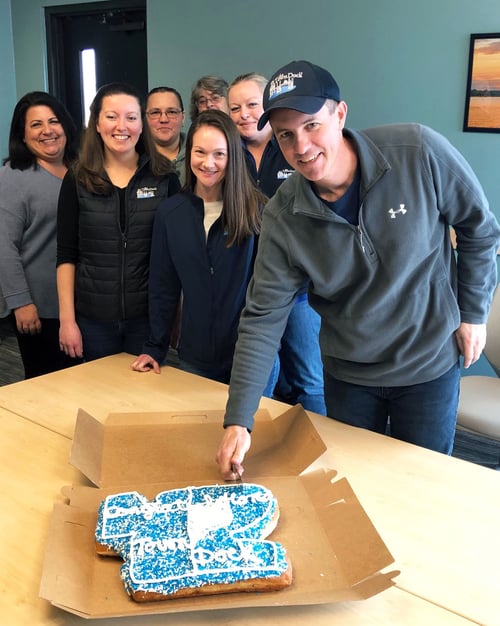 Founded on St. Patrick's Day in 1980 by Noah Clark, The Town Dock is based in the historic Port of Galilee, in Narragansett, Rhode Island. Over the years, The Town Dock has seen its greatest success in building a global presence in wild-caught calamari for both foodservice and retail applications.
"It's important to reflect on what we've accomplished," said Ryan Clark, The Town Dock's President & CEO. "But I'm always looking ahead. I'm so grateful that we have so much more room to grow, and that we have the talented, dedicated teams to keep us moving forward."
The Town Dock partners with a dedicated fleet, local fisherman, and global suppliers to provide a variety of the best domestic and imported calamari to foodservice operators, distributors, and retail establishments.
In the past few years, The Town Dock has seen excellent growth with its certified sustainable Premium Domestic Calamari line, an innovative product leveraging a historically underutilized squid species. Additionally, more and more foodservice operators are discovering our Chef Ready Calamari, allowing more flexibility in ordering as well as the convenience of ready-to-use calamari that minimizes the need for additional time and labor to slack product. Earlier this year, the company relaunched its Retail Calamari Line with exciting new packaging inside and out. This has been met with great excitement from retailers and consumers around the country!
Learn more about The Town Dock, including its history, commitment to high standards, and variety of calamari products.