Visit Pizza Expo - The Town Dock Booth #1520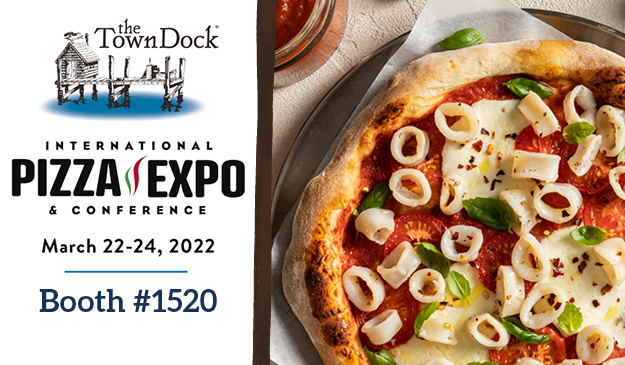 Join The Town Dock in celebrating the diverse and delicious foods that are pizza and calamari! The Town Dock is in a beautiful new booth, number #1520 at the annual International Pizza Expo in Las Vegas, Nevada, March 22-24, 2022. We are excited to see everyone again this year.
The International Pizza Expo is an annual event centered entirely on the world of pizza. From pizzeria owners and operators to suppliers and vendors and everyone in between; there is something at the Pizza Expo for everyone!
And yes - that includes calamari lovers! Not only is calamari a popular pizza topping in Japan and several other Asian countries, but it also has a growing following in the USA. Plus, we have a variety of other delicious calamari applications and recipes that fit into any Italian-inspired kitchen, with or without a deep fryer.
Be sure to talk to us about our expanded Chef Ready Calamari line, which is fully stocked and ready for the foodservice kitchen. We are excited to show off how easy Chef Ready Calamari is to use, and talk about how it can benefit any business, saving time, space, and labor.
Of course, all the frozen favorites will be there — like product of the USA, MSC Certified sustainable Rhode Island Calamari® and Premium Domestic Calamari and our imported Classic Calamari. Our culinary team, comprised of professional chefs and calamari gurus, will be preparing a variety samples throughout the show. We'll also have brand new recipes to share.
We're looking forward to having a new The Town Dock booth at International Pizza Expo 2022 show and can't wait to see you and talk all things squid and calamari. Swing by The Town Dock, Booth #1520, and say hello!