SENA's Back! Visit Us at Booth #2133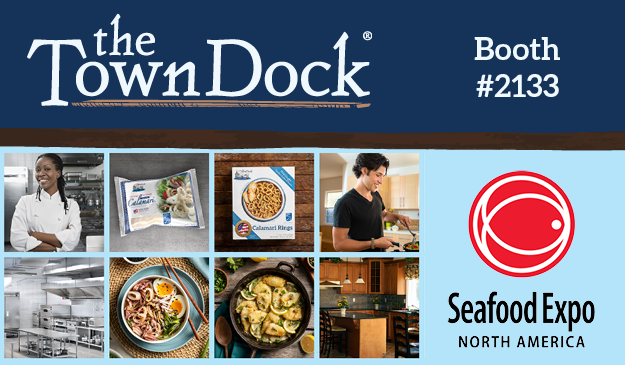 Food shows are finally back, and The Town Dock is excited to exhibit at the 40th edition of Seafood Expo North America (SENA) in Boston, Massachusetts, on March 13-15, 2022. We look forward to seeing you at The Town Dock's Booth, #2133.
SENA is North America's largest seafood exposition. For decades, SENA has offered seafood buyers and suppliers from around the world the opportunity to meet, network, and explore new products and services in Boston's beautiful seaport district.
The past 25 months raised an interesting question—what were we going to do if we couldn't get out and visit customers? Well, we took that time to reinvest in ourselves to be able to bring you better than ever products.
New for this year, we will be debuting our reimagined Retail Calamari line. We've released completely new boxes, featuring enticing recipes on the outside and user-friend portion packs on the inside. This line has also been expanded to include both MSC Certified sustainable, product of the USA Longfin Inshore Squid and Northern Shortfin Squid, offered a tubes or rings, with or without tentacles. We have also included foodservice favorite Calamari Steaks in our retail line up. These are a product of Peru.
Our teams are also excited to talk about our easy-to-use Chef Ready Calamari! We are fully stocked and ready to provide your business with the best, ready-to-use calamari available. When you visit our booth, be sure to ask our team how Chef Ready Calamari can save you time, space, and labor.
In addition, we'll be there with all of your old favorites – like our iconic Rhode Island Calamari®, Premium Domestic Calamari, and Classic Calamari. And yes, we are really excited to offer delicious samples! Here, too, we have old favorites and new flavors. Our talented team, comprised of professional chefs and at-home kitchen gurus, will be cooking all week. Stop by to experience the flavor and quality of The Town Dock's calamari. We'll also have brand new recipes for you to grab and try in your home or professional kitchen.
We're looking forward to the first SENA back and can't wait to see you and talk all things squid and calamari. Swing by The Town Dock, Booth #2133, and say hello!