March is always an exciting time of year for us: we head to Seafood Expo North America (SENA) in Boston, Massachusetts. We love meeting with current and potential customers, talking about our company and our calamari, and serving up samples!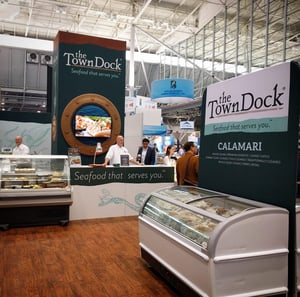 And 2019 was no different. We debuted a new booth design that gave us an updated look and a better flow of foot traffic. Based on the many compliments we received, you were just as thrilled as we were!
Additionally, we had new recipes and displays to highlight unique new calamari applications:
Outside of these displays, we sampled three types of calamari throughout the expo. Of course, we offered the perennial favorite: fried calamari rings and tentacles, featuring our Chef Ready Calamari. Our chefs also crafted a Calamari Ceviche with our Rhode Island Calamari and a spicy Calamari Fra Diavolo with our Premium Domestic Calamari. All were a hit, disappearing almost as soon as they were set out.
As always, we thank our friends and customers for saying hello, and our dedicated team members who plan, prepare, and work the event. It takes a village, but thanks to all of you, we can look back on another successful SENA!